Where were you the last time inspiration nearly bowled you over and you thought to yourself, "I MUST have/recreate THAT!!"
Yeah, me neither, but it was worth a shot?! haha
For this week's Inspiration Challenge, we were given this piece:
Monet Claude Impression Sunset Sun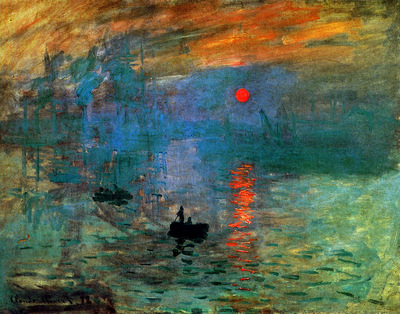 I am not going to lie.....I stared..and stared...and stared.
Do the colors inspire? Do the lonely boaters inspire? That amazing sun! or the textures that hold this peace in my mind as a fuzzy memory.
The answer? D: All of the above!
Now I know what you're thinking....Donna, um...okay!
But I have to tell you this was super fun and its a great technique for making a really fuzzy and watery-looking background.
All you need are a few of our Stampin' Write Markers, a clear block,
and a spritzer with rubbing alcohol in it.
Take your markers (or you can use your ink pads if you want LOTS of color) and color the clean clear block in any pattern you want. Go ahead....I'll wait.
Then take your spritzer and spray the block with the alcohol. Use as little or as much as you want, but pause a second in between spritzes, it takes a second for the awesomeness to start. You'll notice your ink merging and swirling as all of the dots of alcohol and lines of marker become a muddled pool of liquid. Then stamp directly onto your paper with the block!
The alcohol acts as a great liquifier but since our inks are water based, they swirl in the alcohol as opposed to mixing. (if you used plain water for this sample, you'd end up with a watery shade of brown...yum)
Here is a close up so you can see what the colors look like when the alcohol dries. It dries super quick, unlike water, so that's a bonus too!
Notice that some of the colors are more blurry, but they are still separate and not completely mixed. I LOVE this about using alcohol for spritzing!!
Today over at
SSInkspiration
, some of my fellow designers have taken a crack at an inspiration challenge that you are going to LOVE LOVE LOVE!!
See you tomorrow for another round of Friday Favorites!!
~Donna